On July 27, the Integrity Council for the Voluntary Carbon Market (ICVCM) released its Core Carbon Principles Assessment Framework. The framework outlines the criteria and process that will be used to determine which carbon credits will be approved to use the Core Carbon Principles (CCPs) label. It updates and replaces the documents published by ICVCM in March which included the CCPs and a program-level assessment framework. By setting a global threshold for carbon credit quality, the ICVCM aims to strengthen trust in the Voluntary Carbon Market (VCM), which will allow the market to scale.
"We know there is strong demand for high-integrity credits and the CCP label will give more companies confidence to invest. Greater confidence in the voluntary carbon market will unlock additional investment and create a market that is highly liquid and scalable."
Annette Nazareth, ICVCM Council Chair
Download the Guide to Carbon Credits to learn more about how to evaluate carbon credit quality. 
What's the ICVCM?
The Integrity Council for the Voluntary Market (ICVCM) was established in October 2021 by the Taskforce on Scaling Voluntary Carbon Markets. It was charged with developing consistent, transparent quality standards for voluntary carbon credits that will allow the market to scale effectively. Enabling the market to scale with integrity will unlock urgently needed finance to meet the goals of the Paris Agreement. The chart below illustrates ICVCM's vision: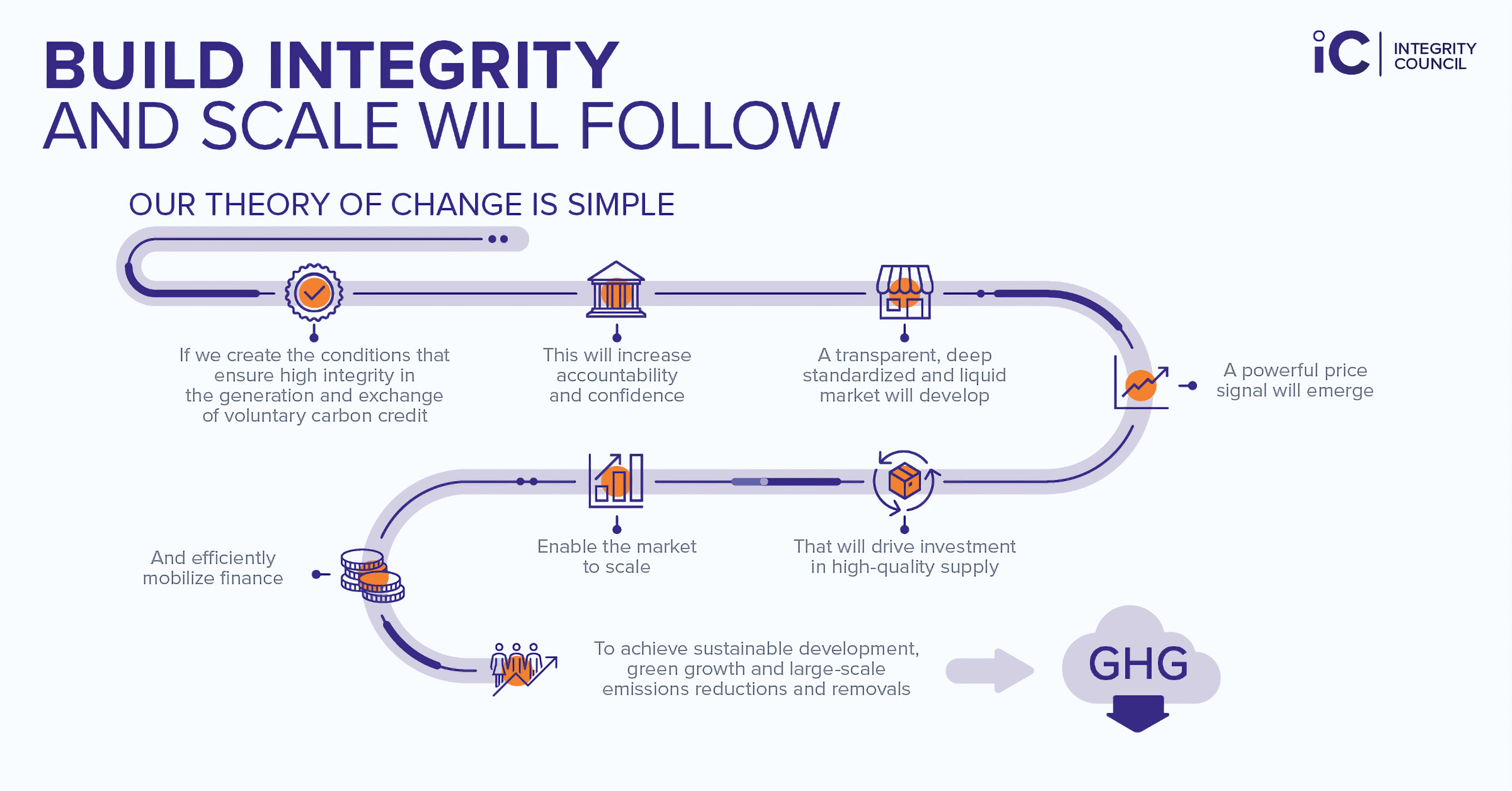 Source: ICVCM
"The voluntary carbon market can play a key role in mobilizing private capital to support the 1.5-degree Paris climate target. Our CCPs and assessment criteria set a global threshold for quality which aims to unlock finance at speed and scale for projects to reduce and remove billions of tonnes of emissions that would not otherwise be viable."
Annette Nazareth, ICVCM Council Chair
What are the Core Carbon Principles?
The ICVCM Core Carbon Principles (CCPs) are a set of ten criteria that establish robust thresholds for high-integrity carbon credits in the voluntary carbon market. Developed with input from numerous stakeholders across the market, the CCPs aim to build trust in the market, reduce fragmentation, and shift capital flows toward high-quality projects. The principles are organized by three key areas of focus as shown below – emissions impact, governance, and sustainable development.

How does the assessment process work?
The new ICVCM CCP Assessment Framework outlines three levels of assessment/assurance – at the program level, carbon credit category level, and carbon credit level. The basic steps, outlined in the Assessment Procedure, are as follows:
1. Carbon credit issuance program level
Any program that issues carbon credits can apply for an assessment through the ICVCM assessment portal. Programs will need to provide evidence on how they meet CCP criteria and the Assessment Framework requirements. Some sections of the assessment align with CORSIA eligibility criteria, and CORSIA-approved programs can complete their application with a reference to their CORSIA eligibility and documents. Non-CORSIA programs will need to complete all sections of the ICVCM application. The ICVCM will review the completed applications in the order they are received and provide a decision within two months (CORSIA-eligible) to four months (non-CORSIA eligible), subject to workload. Approved programs will be shown as CCP-eligible on the ICVCM website and allowed to use a CCP label on their carbon credits from approved categories.
2. Carbon credit issuance category level
The ICVCM will convene a Categories Working Group (CWG) to assess carbon credit categories (project types) under active methodologies. Based on this review, the CWG will group the categories into the following:
 • Fast track consideration: Appears to meet the criteria and requirements.
 • Deeper assessment: Multi-Stakeholder Working Groups (MSWGs) will be appointed to review further to determine if the category meets the criteria and requirements. Follow-on assessment of these categories will be sequenced based on market share and trends.
 • Very unlikely to meet the criteria and requirements: Rejected for further assessment.
It's unclear what the timeline will be, but the Council Chair Annette Nazareth says the ICVCM will begin announcing decisions in late 2023 so programs can start using the CCP label for their carbon credits.
3. Carbon credit level
Once a program has achieved CCP-eligible status, it can tag its carbon credits as CCP-Approved if they belong to a CCP-Approved Category. Programs are responsible for documenting the process they will use to identify and tag their credits as CCP-Approved. The ICVCM will conduct periodic reviews to ensure that carbon credits are accurately tagged as CCP-Approved and may suspend a program's eligibility status if warranted.
(Buying carbon credits) How does this affect my organization?
The ICVCM CCPs and Assessment Framework set rigorous requirements for CCP-Approved carbon credits. They provide a credible way to identify carbon credits that create verifiable climate impact based on the latest science and best practices. This will help companies make better decisions when buying carbon credits to ensure high-quality and alignment with their climate goals.
(Selling carbon credits) How does this affect my organization?
Carbon credit suppliers and sellers can help their carbon credit issuance program with the application process to achieve CCP-Approved status. Once achieved, this will enable suppliers to demonstrate the quality of their carbon credits and differentiate their projects in marketplaces such as Cloverly.
To learn more about how to identify and evaluate carbon credit quality, download the Guide to Carbon Credits.